Dear Parents,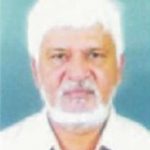 Let me welcome you to Nalanda English Medium School.
Education is the single most effective device to meet challenges in life, it self. A good education has been known to change people's lives always for the better. It is certainly important to achieve degrees and Qualifications, but that alone, is not what education is all about.
Education can imbibe with knowledge, the sense of purpose and confidence, essential for today's dynamic, vibrant and ever changing world and only good education can instill the sense of ethics necessary to help successfully navigate the stormy competitive culture. This is the philosophy of Nalanda English Medium School.
Our School purpose excellence. We aim to provide the best for all our students of varied abilities and talents, encouraging them to achieve excellence in all spheres of activities, from academics to sports. As our former President Late Dr. A.P.J. Abdul Kalam has said in his book "Ignited Minds" – "As a young citizen of India armed with technology, knowledge and love for my nation, I realize that a small aim is a crime." We help our students realise this great truth.
Niranj an Kelshikar
Secretary, NCRD