Dear Parents,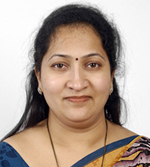 I take this opportunity to Welcome you and your Pupil to the family of Nalanda English Medium School, where stress is laid on developing every sphere of child's personality, through excellent infrastructural facilities such as a three storeyed building, natural environment, spacious & well ventilated classrooms, special furniture, highly equipped Science, Mathematics, Geography & Computer Laboratories, Sports ground for out door games. I am also proud to have qualified, experienced and dedicated teachers to support us in our Endeavor.
A Nalandaite by the time he/she completes Std X, we help them to lay a sturdy foundation for their future not only through RWLS Skill but by deeply imbibing in them the Indian cultural values, ethics, spirit of hard work & competitiveness, a sense of inquisitiveness & creativity, scientific approach, analytical attitude, patriotism & respect for secularism. As Willam Ralph Inge said, "The Aim of Education is the knowledge not of facts but of values. "
I hope, in partnership with you our school becomes an instrument in roviding a high end platform to every child, so that he/she in return, turn ur Nation from a state of progressiveness to a progressed one.
Mrs. Netra Shah
Director, In-charge
Nalanda English Medium School